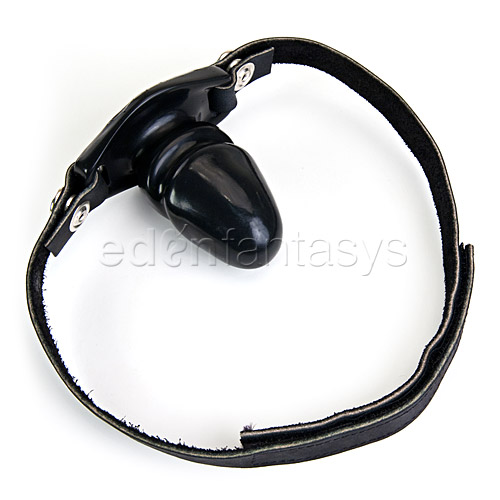 Hey look, a dick head! Doesn't it just bring you back to your rawest, wildest fantasies? As it well should! After all, this is the
Fantasy Gag
you're eying with such lust. The first time I saw it, I knew I had to have it. I have an obsession: part oral fixation, & part love of all things phallic in appearance. So, naturally, a toy that incorporates my two most primal desires simply
had
to be mine. The fantasy gag comes in a clamshell case with the Tantus Logo and the words "Silicone Fantasy Gag; Satisfy your oral fixation" on the front. The penis shaped plug-style gag sits above two leather straps held together by a rubber band. A thin cardboard insert explains the material & care of your new plaything.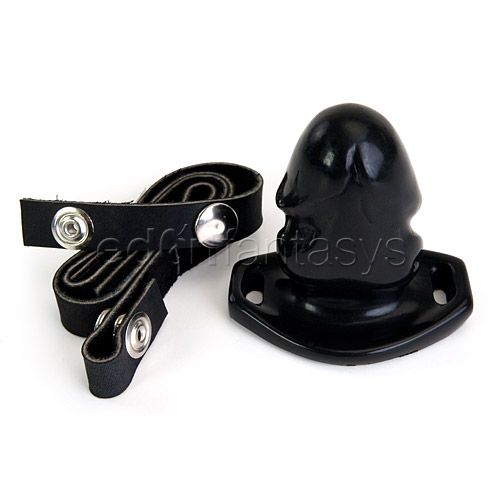 The straps, as I said, are leather, with two metal snaps on one side, and a strip of velcro on the other. Let's just stop a second and ask the question we're all dying to know the answer to:
Really
Tantus, why Velcro? The velcro closure
does
make this gag easy as cherry pie to remove, but it also snags hair, attracts fuzz, and won't fit those with too large or small of a neck. *Sighs* Alright, fine. You decided to put velcro on it. I can live, I'll deal with it. But couldn't you have put
more
velcro? Personally, I've had issues getting this to stay on or close fully because my neck is so small (or perhaps the straps are just so large?). Anyways, I digress. To attach the straps to your gag you simply thread the snap ends of the straps through the slits on either side of your gag and snap into place. Tantus suggests you remove the straps before cleaning, but once you get them on they're somewhat difficult to take off.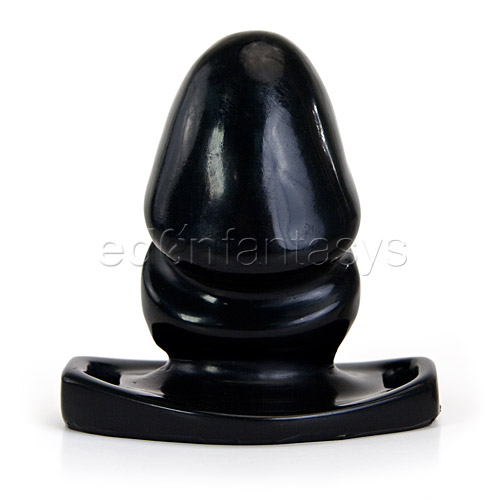 The gag itself is 2 3/4 insertable inches of sexy black silicone to shove deep down your throat, or just let rest gently against your tongue. At 1 5/8" in diameter, this is a large, filling toy that imitates the sensation of giving head without being uncomfortable.Wait, scratch that last part. Maybe I have a small jaw, maybe I'm just unused to the feeling of something foreign stuffed in mouth, but every time I've worn this gag it's left me sore. Don't get me wrong, I enjoy that feeling of a big jet black dick stabbing me in the back of the throat, I just can't tolerate the pain that it brings my jaw. I also have the gag reflex of a virgin, but after a few sessions with the Fantasy Gag, I'm learning to overcome the need to yack. A base at the bottom of the gag fits snugly over the wearer's lips/general mouth region, and supposedly makes this easier for a beginner. Because it's so filling, it easily muffles the words of its wearer, but will not, however, completely deter screams or moans. The silicone is soft, but firm and will stand up to whatever biting you happen to throw its way. Just to test out the durability of it, I bit down as hard as I physically could and removed it for inspection. The gag was left undamaged, save for some small practically unnoticeable indents where my teeth had been. I was impressed, and happy, to say the least. So bite, chew, suck, and screw your mouth all you want with this gorgeous thing. You aren't going to harm it any.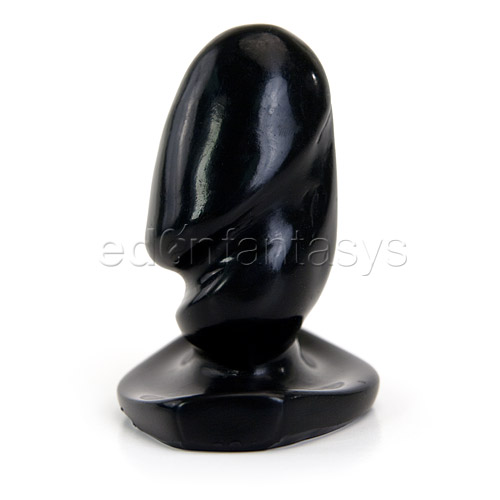 Being made of 100% food grade silicone, this toy is hypo-allergenic, non-porous, & both phthalates & latex free. It has no taste or odor, which is awesome, because who wants a smelly, bad tasting toy shoved in their mouth? Not I. Cleanup is simple. Remove the straps (if you can), and wash with soap and warm water. You may also boil the silicone gag for 3-5 minutes, or wipe down with a 10% bleach solution. Do NOT immerse the leather straps in water. If you feel the need to clean them, please do so with either a damp rag, or a leather cleaner. Be sure that all parts of your gag are completely dry before storing. Keep in an equally dry place, out of the light.
Alright, I'm sure you can tell by now that this gag didn't exactly live up to my lofty expectations. It was my first gag, and while I liked it, while it's attractive and fun, it wasn't comfortable to wear. It didn't work for me, but that doesn't mean it couldn't work out for you. I'd also like to note that while I will not continue using this as a gag, I will use it in other ways. I tested out playing with the gag without the straps attached, and I have to say I much preferred this method. I'm able to control how much of its length I have in my mouth, and I can more freely suck and play with it. I also greatly enjoyed having my partner fuck me from behind and simultaneously fuck my mouth with this toy, fulfilling one of my greatest fantasies. I guess you could say that the Fantasy Gag and I have a love/hate relationship that I'm hoping, with time, might evolve into pure enjoyment.

Mouth gag by Tantus
Material: Silicone / Leather
Safety:
This product was provided free of charge to the reviewer.