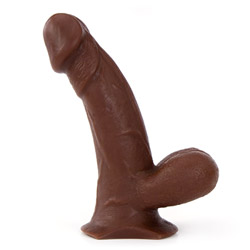 Lookin' for a good time? Why not try the
Goodfella
! A realistically shaped and textured dildo that can be used either solo or with a partner. The Goodfella is suitable for vaginal or anal penetration, and can even be utilized for pack-n-play. He makes a great tool for simulating oral sex, or for the ever popular and immature sport of "cock-slapping". Squeeze the base of this little guy together to back him into a harness, and experience the feeling of the Goodfella's balls smacking against your partner's writhing body! Want to show that special person how much you dig them? Stuff this stiffy into your jeans and feel free to use cheesy pick up lines and poorly executed innuendo! Versatile, realistic, and fun! A great multitude of uses await you with the Goodfella in tow.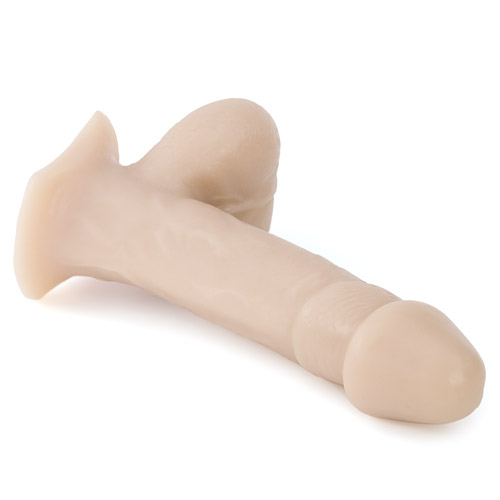 The Goodfella is non-porous, hypo-allergenic, and completely free of both phthalates and latex. It is made of VixSkin, which is in fact a very unique blend of silicone that feels as soft and authentic as real flesh. It features a firm, inner core covered in a plush, outer layer. It is somewhat tacky to the touch, but its stickiness can be easily remedied by dusting lightly with corn starch (do NOT use baby powder or talcum powder). VixSkin, technically being silicone, is a hygienically superior material. It can be disinfected by boiling for three minutes, tossing it in the top rack of your dishwasher, or wiping down with a 10% bleach solution. You should always disinfect this toy before switching orifices. IE: Don't stick this in your butt, and then shove it up your vagina. No! Just-- No. For everyday care, washing it with antibacterial soap and warm water should suffice. Because it's made of silicone, and also perhaps because it's so sticky, this thing is a dust/hair/fuzz magnet. If you have animals, this could be slightly problematic (unless you intend to use it as a lint roller). For this reason, I'd recommend cleaning it before and after each use. Please be sure to only use water based lubricants with this toy, unless your intention is actually to destroy it, in which case: [
sarcasm
]
No, go right on ahead, that Silicone lube will do the trick! [/sarcasm]
Just in case you missed that, I clearly identified the beginning and end of my sarcastic comment to ensure that those words are not taken as sincere. What it should actually read is "Do NOT use Silicone based lubricants on this toy. Ever. The End."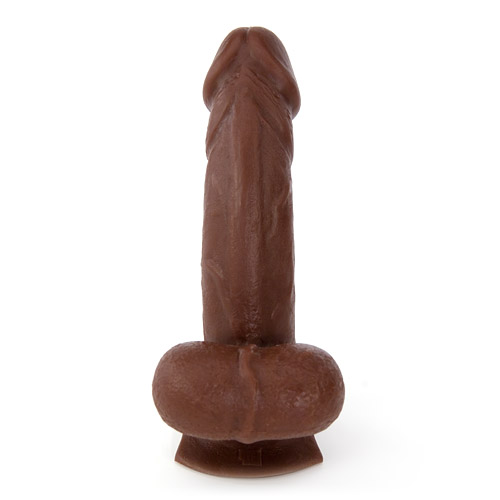 The Goodfella is fairly average in size. It is 7" in total length, 5 1/2" insertable, and 1 1/2" in diameter. Definitely not petite, but not quite large either. It would be a fairly decent toy for beginners and advanced users a like. Personally, I consider myself somewhere in between, and this toy is nicely filling for me. During penetration though, it almost feels a little smaller in diameter than my other, similarly sized, playthings. I attribute this to the fact that the shaft is not as firm as standard silicone toys, and therefore seems a little less filling. Apart from its composition, what makes the Goodfella unique is that it has balls specifically placed so that they may rest on the outside of a harness. Why is this important? Not only do the plush balls protect your partner from those unyielding o-rings, but they also give a nice little slap against the clitoris or ass with each thrust. Yes! Finally! Do you know how long I've waited for some good ball-slapping sex? Too long, my friends, too long.. Besides being ingeniously placed, the balls are also realistically sized and textured, and easily pass the "squeeze-test". The shaft has some decent detailing, including veins and a nicely pronounced head. You can't particularly feel the veins in use, but they're aesthetically pleasing nonetheless. The shaft is also very gently curved, which helps to stimulate your spots, be them G or P. The Goodfella is available in 3 different tones: Vanilla, Caramel, & Chocolate. I received the Caramel, which is kind of a very light tan. I actually own another Vixen Creations dildo in the Vanilla, and it is pretty pale, so be wary when picking your skin tone. Overall, I'm very pleased with the design of this toy!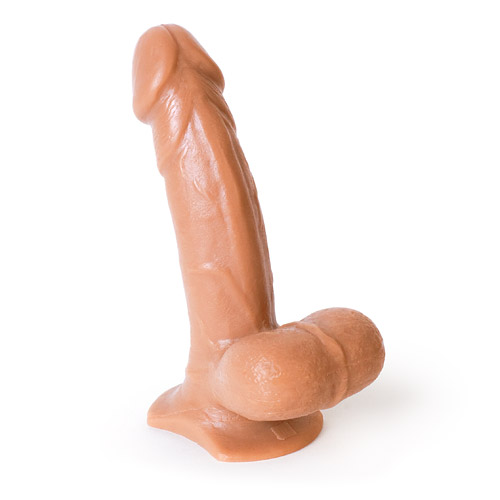 So, how did this bad boy perform? As a packer, it didn't do too great. My sweetheart was so very excited about the prospect of a prosthetic suitable for pack-n-play. So was I. I would've loved to have been able to spontaneously have penetrative sex without the awkward "Wait, let me find the harness. Oh crap, this dildo's dirty!" chatter in between. Unfortunately, the Goodfella is just a bit too prominent for everyday casual wear. Because of the length and firmness of the toy, it was rather difficult to coerce into a pair of pants without being incredibly obvious. Honestly, it looked like my partner had a huge boner (which may be amusing, or even erotic, around the house, but is probably not appropriate to show off at the grocery store). Alright, so it didn't exactly work out for us as a packer. However, in a harness the Goodfella is absolute perfection! Getting it into the harness takes a little patience, as you have to squish the base together and then back it into the o-ring. However, once it's in, it isn't going anywhere! The Goodfella hangs at a very organic, natural angle and is incredibly luscious and smooth once inside you. As mentioned above, the slightly curved shaft and pronounced head help to stimulate your G-spot (or P-spot, as the case may be). The balls positioning above the harness makes sex comfortable, and even more enticing! I still love hearing and feeling the balls slap against me as I get fucked. It really adds something to the experience! VixSkin also retains heat very well, and that, combined with the texture of the material itself, makes this the most realistic attachment we've ever used! It easily trumps all my other well loved dildos, and has now become the most frequent harness compatible toy we reach for. But wait-- its wonders don't stop there! It's also mind blowing when used for masturbation! The base makes an effective handle for either yourself or a partner to hold. I've tried it by myself a few times, but my absolute favorite use for this toy is to have my partner fuck me with it by hand. He can produce this incredible mixture of speed, pressure, and realism that I just can't get with any other toy. I can actually detach from the fact of what it is, and let myself imagine that I'm just being truly and literally fucked. It is a spectacular experience!
All in all, I adore the Goodfella! It's very pleasing to the eye, and the vag. Sadly not as miraculous for pack-n-play as I had hoped, but still a very worth-while investment! A big thank you to Vixen Creations for letting my partner and I test drive one of your inventive products!
This product was provided to Tales from the ToiBox for free by Vixen Creations in exchange for an unbiased review.